About Us
DeLoof Builders LLC began in the year 1960 as Melvin DeLoof Builders. Soon after, Mel DeLoof's son David joined the family business, serving the community as father and son. Finally, in the early 90s, the company name changed for the last time to DeLoof Builders LLC as Melvin DeLoof retired his position. Today, David and his three sons Craig, Scott, and Jeff continue to serve the community, specializing in new home construction and commercial construction.
Who We Are
Scott DeLoof / Operations
I've been a part of DeLoof for 25 years now, currently work as our head of Operations. Of the three of us brothers, I handle the widest range of responsibilities, making sure both our internals and external business is running smoothly. Working in Operations, I spend much of my time working with customers, estimating, and making sure everything is in its proper place. I served as president of the Home Builders Association (HBA) of Western Michigan in 2013, 2014, and 2015, and currently serve as a board member. Thanks to my extended time working at DeLoof, my tenure as a president and board member of the HBA, and my family legacy of architecture and construction spanning three generations, I provide all of my clients with the best construction work to be found in Western Michigan.
Jeff DeLoof, Designer / Project Manager
I have been with DeLoof Builders for over 20 years, and have been designing and building homes for just as many. As Designer and Project Manager, I use 3D modeling software to create a clear vision of what your dream home will look like long before construction begins. As Designer, setting expectations are my #1 priority; as Project Manager, meeting expectations are my #1 goal. This means I will not only plan out your home with you, but I will interface with both our on-site crew and you on a daily basis, keeping you in the know about how your construction is coming along.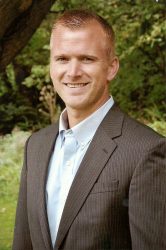 Craig DeLoof / Project Manager
I've been with DeLoof Builders since 1998, and have spent each year since then refining my craft. As Project Manager, I spend most of my time on-site, working with our crew and our subcontractors. That means, of the three of us, I spend the most time physically working with the materials that go into building your home, and represent DeLoof day-to-day on the construction site. I firmly believe in maintaining a hands-on approach to each of the projects I lead, and I aim to make every project I work on the best project I've ever worked on.
David DeLoof / Owner
In 1996 David and his wife Mary took over the business, changing the company name to DeLoof Builders LLC. David enjoys working in the family business consulting, excavating, and serving his community. While there's no way of knowing what the next generation has in store for the 7 grandchildren of David and Mary, DeLoof Builders pledges to continue providing Commitment, Quality and Care to every client.